D.H. Lawrence was born on 11 September 1885 in a rented house (now 8a Victoria Street) in the small coal-mining village of Eastwood in west Nottinghamshire. The house has now been converted into the D. H. Lawrence Birthplace Museum to commemorate his life and career.
Lawrence was the fourth of five children of coal-miner Arthur John Lawrence (1847 - 1924) and lace factory worker Lydia Lawrence (née Beardsall) (1852 - 1910). His siblings consisted of two older brothers (George, 1876-1967, and William, 1878-1901), an older sister (Emily Una, 1882-1962) and a younger sister (Lettice Ada, 1887-1948).
He began his education in Greasley Beauvale Board School at the age of six years old in 1891. However, unlike most children in the village of about 5,000, Lawrence wasn't planning on working as a coal miner like his father. This is probably due to the influence of his mother, a former teacher trainee, who instilled a love of books in him from a young age. Which is just as well, since as a child, Lawrence was physically quite frail and susceptible to a variety of respiratory related illnesses - no doubt made worse by the pollution from the ten coal pits around the village. As a result, he didn't mix with boys in his age group, and he tends to avoid sporting activities in school.
Nevertheless, he excelled academically in school, and in 1897, he earned the distinction of being the first ever pupil from his school to receive a scholarship to Nottingham High School. The introvert didn't fare quite as well there though owing to several bouts of illness.
21-year-old D.H. Lawrence in 1906. Image courtesy of Wikimedia Commons
After high school
After finishing school in 1901, Lawrence found work as a clerk with a local surgical appliances manufacturer. However, he was struck down with pneumonia that autumn and resigned from his position. During one of his walks at the Haggs Farm near his home during his convalescent period, he struck up a platonic friendship with a young lady named Jessie Chambers who lived there. They immediately became close friends, and at her urging, Lawrence promptly found employment as a pupil teacher at the British School in Eastwood.
Chambers served the role of muse to Lawrence. According to her sister, Ann Chambers Howard, the two of them would spend a great amount of time together to read, talk or walk around the fields. Apparently, Chambers had an extremely intense appreciation of beauty of the written words, and her reaction to his writings constantly spurred him to work harder. In one of his letters year later, Lawrence said she became "the anvil on which I hammered myself out."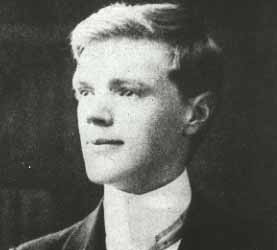 Formal teacher training
Two years later, he enrolled at the Pupil-Teacher Centre in Ilkeston, Derbyshire, to receive formal teaching training. Again, at the urging of Chambers, Lawrence started to practice writing poetry and stories. Concurrent to this, Lawrence studied for the fiercely competitive King's Scholarship examination, and eventually took the test in December 1904. He did brilliantly, and was the top ranked student in in the first division. He was interviewed for the local paper and had a feature article written about his in the respected The Schoolmaster and Edinburgh weekly magazine.
With the scholarship in hand, Lawrence left his little village in September 1906 to enrol at the prestigious University College of Nottingham in London to obtain his teaching certificate. After graduating, Lawrence found employment as an Assistant Master at the Davidson Road School, Croydon.
A few years later, he became reacquainted with Frieda Weekley (nee von Richthofen), the wife of Ernest Weekley, his former lecturer at University College of Nottingham. Despite her being six years older and a mother of three, Lawrence fell in love with her. She would prove to be the greatest love of his life. They ran away to her parents' home in Metz in occupied France, and waited for her divorce to be finalised. Lawrence and Frieda officially got married on 13 July, 1914. They were together until his death in 1930.